Designers and architects will tell you that creating a light display is all about innovation. Clubs and bars, on the other hand, will tell you it's all about wow-factor. So what happens when the two worlds collide and both demands must be met? Well, that is when things get really exciting.
With many bars and nightclubs fighting it out for top spot, it turns out that now it's not just people wanting their name up in lights; with many venues pulling out all the stops to set themselves apart.
In the right hands, lighting can be used to create fantastic illusions, dictate mood, give direction, instruction and even convey information. It is one of those things that if executed well, has the ability to turn something good, into something great.
We've put together a countdown of 10 of the most spectacular uses of lighting in clubs and bars around the world to showcase some of the most exciting and inventive things that can be achieved with a dash of imagination…
10. Jimmy Woo: Amsterdam, Netherlands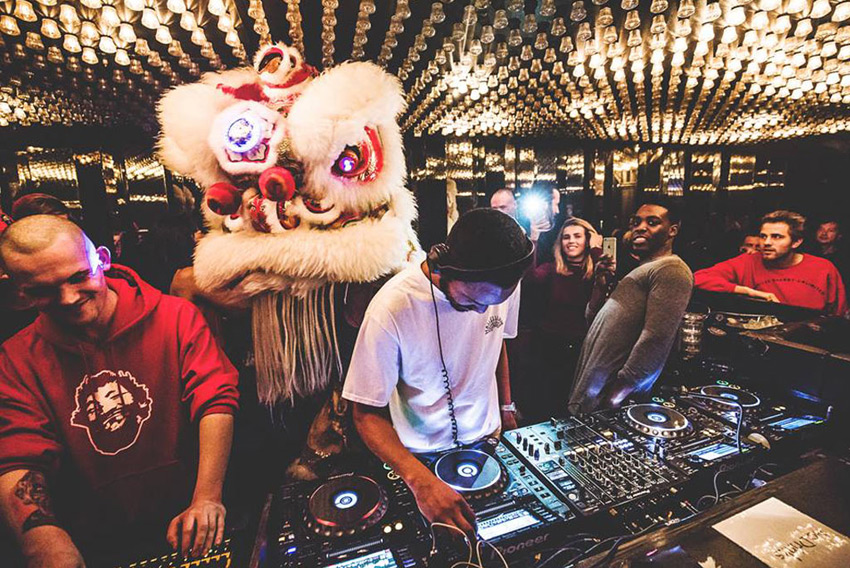 Amsterdam may be known for being quite rural and traditional, where everyone has a pushbike and loves a good coffee shop, but wait until you experience Jimmy Woo. Images of 'traditional' are quickly swept from your mind - Jimmy Woo is striking, and contemporary with a capital C. Jimmy Woo uses light to pull focus to the two most important feature of a nightclub, the dance floor and the bar. The bar uses suspended bottle cabinets and LED shelves to blast light up through their bottle risers at the bar, but is careful not to upstage the main act: the 11,700 individual bulbs lighting up the dance floor. Programmed to blink in tempo with the music, Jimmy Woo can go from gentle, gradual waves of light to full on strobe in seconds.
9. Club Octagon: Seoul, South Korea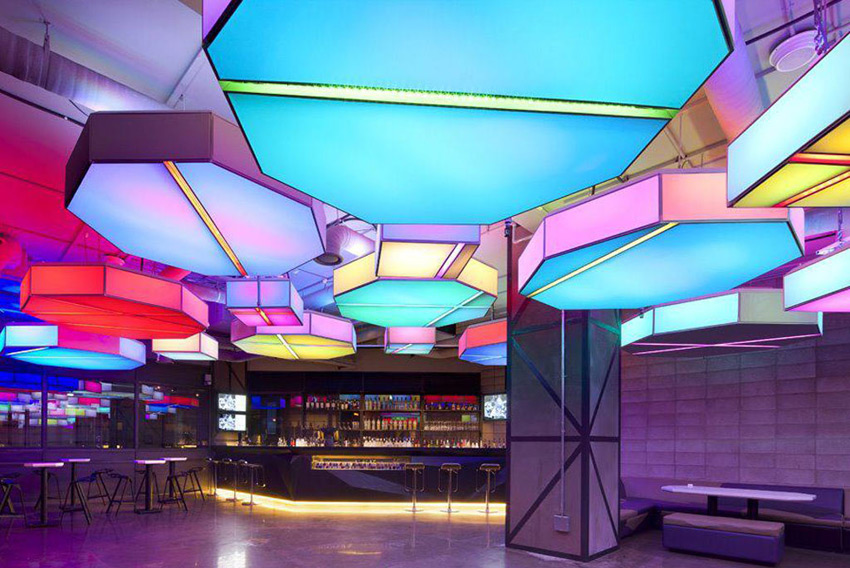 Club Octagon uses the motif of shape and geometry for a truly unique take on lighting design. With 4D lighting tech, Club Octagon's overhead lighting is fired through dozens of contemporary looking, pastel octagons giving the whole place a vibrant blast of color. Although they're not just beautiful - they're are also functional. Programmed to respond to sound, Octagon's lighting installation changes color to match the style of the music being played. The venue's industrial design also makes it perfect for the laser displays so they've gone and installed a load of projectors too, as well as some pretty impressive LED under-lighting. However, Octagon's piece de resistance is the undoubtedly the venue's pool, which sits in pride of place in the center of the club's booths. But don't worry- that's sensationally lit too, with underwater jets no less.
8. Flash: Bansko, Bulgaria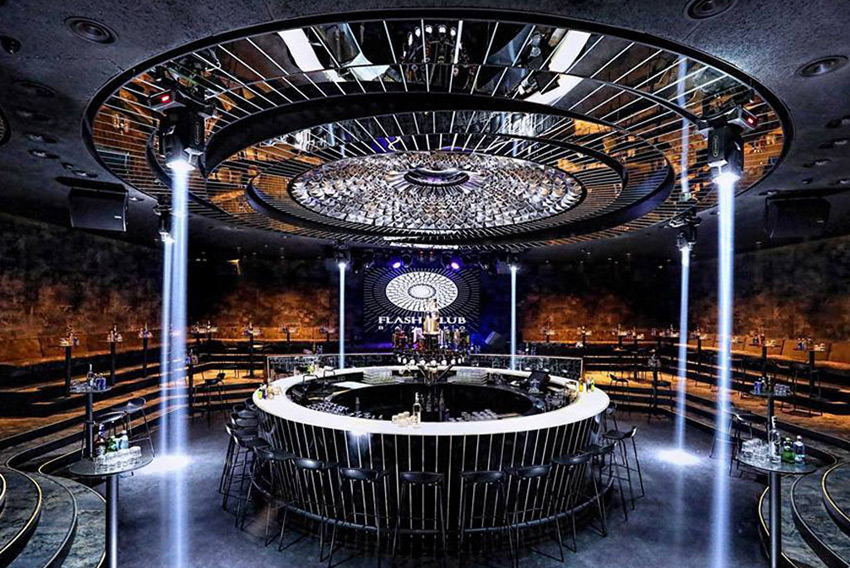 Bulgaria is home to stunning nightclub, Flash. Flash is modest with its monochrome color scheme but really excels itself in design, using every reflective surface available to them to enhance light. Jets of pure white light shoot down around the freestanding island bar, and reflect off the mirrored bar, ceiling and walls. Behind the bar is equally impressive, with LED acrylic shelves, lit bottle tiers and spirit dispensers all towering to a symmetrical point for the most satisfyingly clean finish to any bar or nightclub we've come across. Even the bathroom lights have been carefully considered, with fluorescent ring lings built into the walls. No wonder the ladies seem to spend so long in there!
7. Bond Lounge: Melbourne, Australia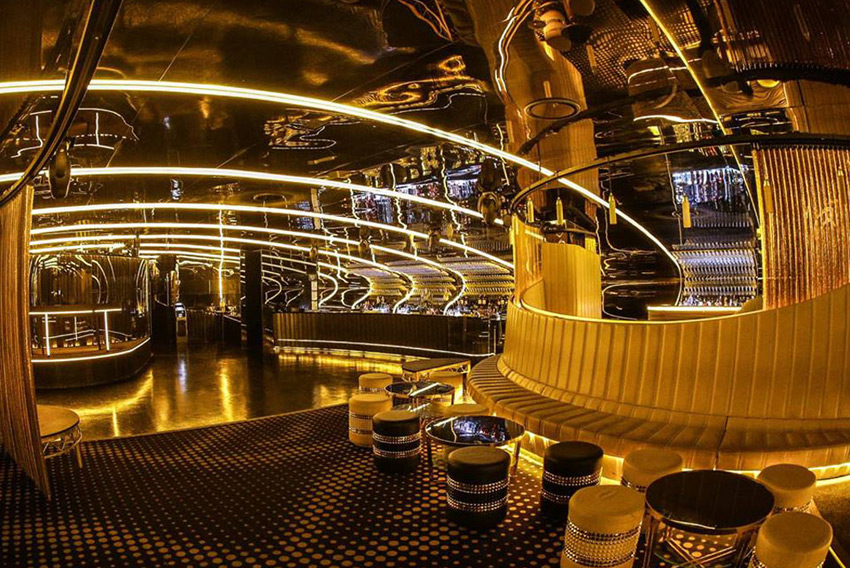 Bond Lounge offers up some of, if not the most hypnotic and unusual back bar lighting we've seen. Using hundred of opaque liquor bottles, The Bond Lounge staggers tiers of drink along the curvature of the wall behind the bar and up overhead in an arc shape. The gravity-defying feature wall almost feels a bit Alice in Wonderland, but is certainly quite a sight to behold. The bottles are all then beautifully highlighted using LED shelving which cast ripples of neon light across the room a stone into a lake.
6. Parq: California, USA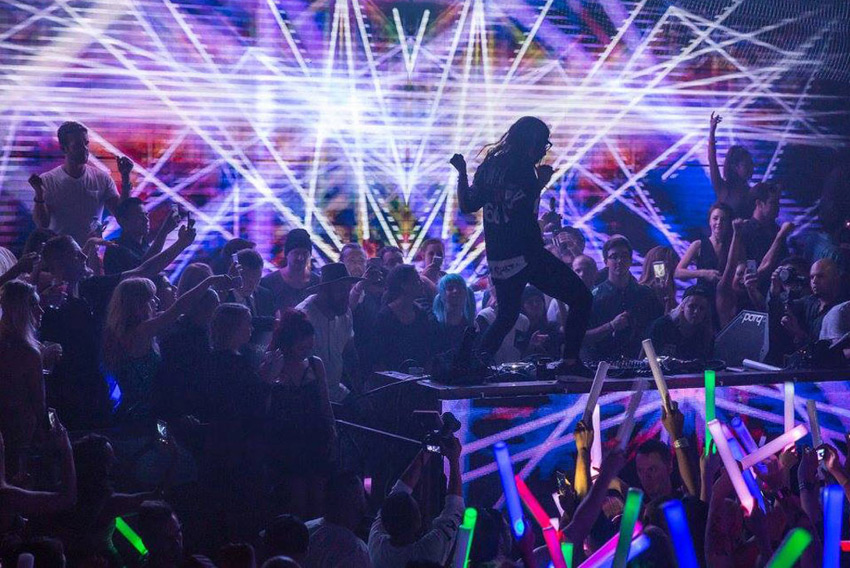 Winner of the 'Best color' prize and the Restaurant and Bar Design Awards in 2015, we still can't quite over the beauty of San Diego based venue, Parq. With lighting designed by Steve Lieberman of SJ Lighting - known for his work at EDM festivals and his excellence in live design, Parq is as picturesque as they come. The restaurant portion sees a handful of faux blossom trees mingled in with the tables, each one lit with hundreds of twinkling lights. But not only that. That wouldn't be enough for a lighting and video design specialist. Journey through the tunnel of chandeliers to Parq's nightclub portion, where the floor and ceiling is decorated with light up acrylic tubes made to mimic the shape of sound levels. Let's not forget the wall surrounding the main bar which is made from over 400 lit up LED champagne bottles. Now that is pretty spectacular.
5. Sound Club: Phuket, Thailand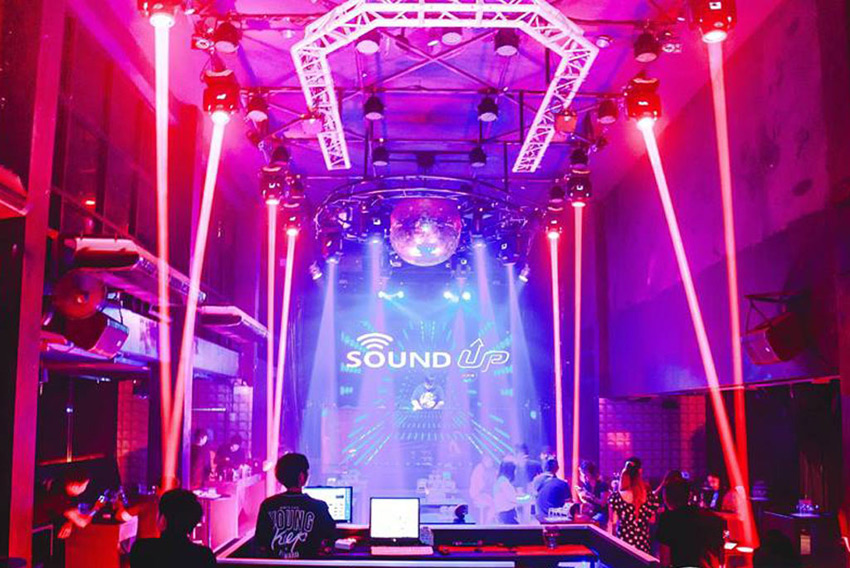 The lighting at Sound Club, Thailand is like something directly from a sci-fi movie. Winner of the Lighting Design Award in 2010, Sound, is hyper modern by design and awash with UV technology and fiber optics. With accented table lighting and glowing booths, Sound's seating alcoves are lit with halos of blue LED light for a futuristic glow. There are also some cleverly disguised lights in the seat bases to further the space-age theme and give them a cool flotation effect. Our favorite lighting feature however, is the installation of the tunnel spot lights. These have been designed to change in intensity and movement as a guest journeys through the corridor, therefore giving the illusion of animation as if the walls are expanding and contracting. Wow. Sound seems to be breaking boundaries in more ways than one.
4. Libertine: London, England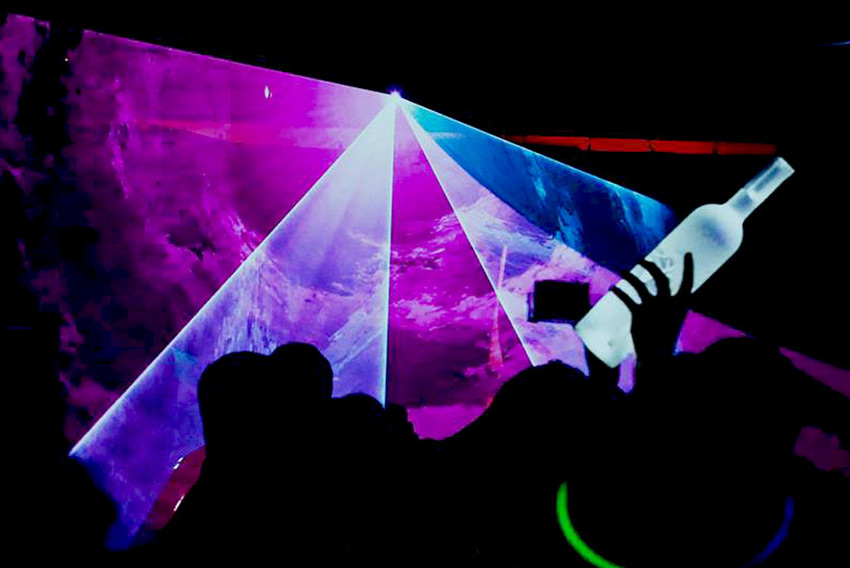 Everyone loves a spot of personalization, and the installations at Libertine are very happy to oblige. With a gigantic 50 ft LED screen, laser displays, customizable mood lighting and a screen that runs the whole length of the bar edge, the Libertine nightclub can look completely different depending on when you choose to visit. Hire the venue and you want it purple? Libertine can be purple. Throwing a launch and want your branding everywhere? Oh look, there we are right across the bar front. Libertine run all of their lighting through an impressive RGB LED matrix using pixel mapping, so the screens on the wall can appear as though animated wallpaper. Think starry night sky, expanse of rolling hills or even beach sunset. Clever, right?
3. Vanity: Las Vegas, USA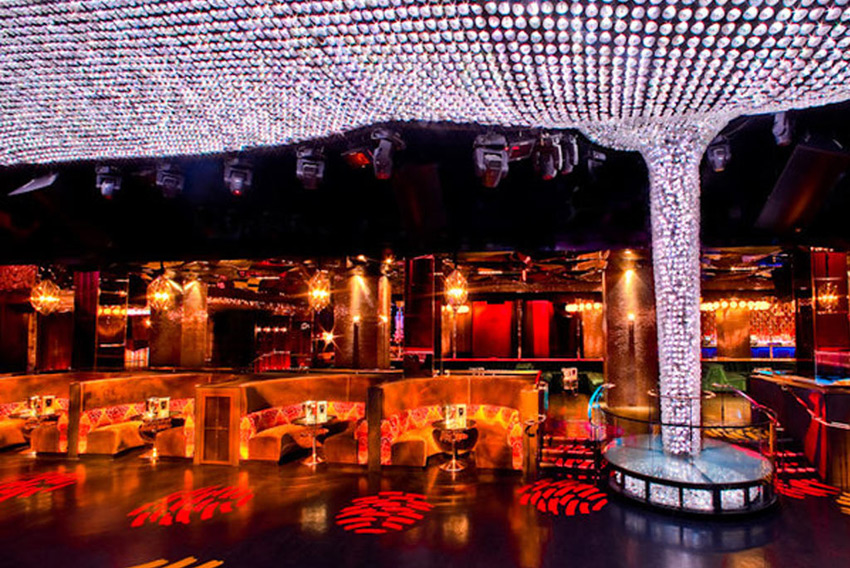 Of course Vegas is in our top 10! Vegas is known for its theatricality so it comes as no surprise that the Hard Rock Hotel and Casino's sister venue: Vanity, makes it onto our list. What makes it so special you may ask? Well, Vanity Nightclub has a captivating ceiling display made up of 20,000 iColor Flex LED nodes, covering a massive 1,200 square foot and controlled using a touchscreen located in the DJ booth. Shaped like a blossom tree, and cascading waves of color across the whole venue, this installation is brainchild of acclaimed interior designer Mr. Important who has been responsible for some of the flashiest displays in cities such as Dubai, London, Mumbai, San Diego and LA. Alongside Mr Important's ceiling spectacle, Vanity also impresses with honeycomb shaped, individually lit liquor shelves, backlit pivoting doors and its very own blazing firepit.
2. The Year: São Paolo: Brazil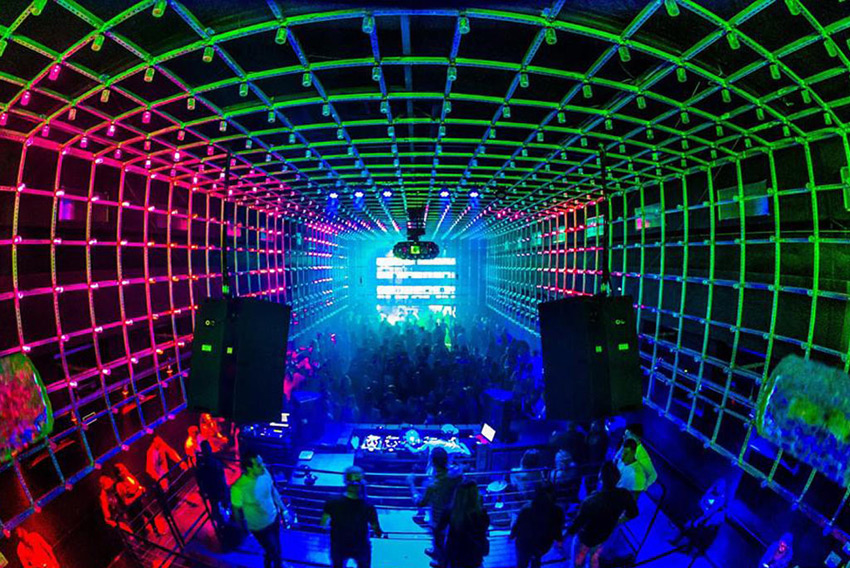 It's not every day that you see a humongous cage suspended above a dance floor at a nightclub is it? Well, The Year is known for having just that. The cage in itself wouldn't be enough to get it into our top 10 though, oh no. This cage is responsive to dance moves. Motion and temperature sensitive lighting designed by Brazilian architect, Guto Requena. Designed as an extension of the bodies of the guests, the cage is decked out with several sensors which then translate the information it collects into a custom lighting display. This means that no two experiences at The Year are ever the same, and it safely secures its spot at number 2 in our list. Flights to Brazil anyone?
1. Lightbox: London, England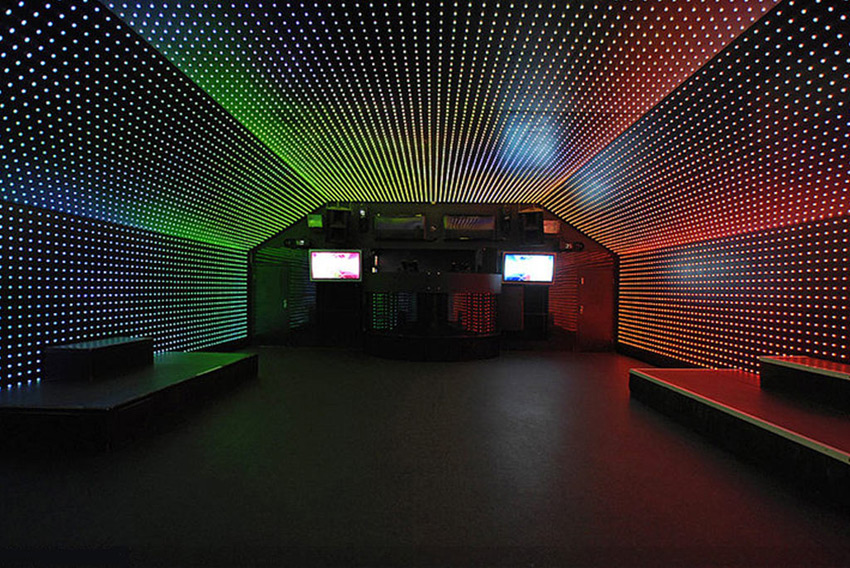 Here is a venue named specifically for it's sensational lighting prowess. Jimmy Woo may have 11,000 bulbs but London nightclub, Lightbox, have won this hand by boasting an incredible 15,000. As if that wasn't impressive enough, Lightbox also question why lights were ever considered to condemned to the ceiling. With a 270 degree arc of incandescent LED's overhead, party goers are immersed in an astounding wraparound LED light system. Lightbox's LED lighting displays can even be programmed to animate, responding to the sound levels of the music for complete audio/visual synergy. Talk about thinking outside the (light)box.
Lighting isn't just about practicality anymore. It is a way to showcase uniqueness, personality and flair - just look at what these venues have managed to accomplish using imaginative design, resources and a little bit of know-how. Give an amateur a light and he'll probably make shadow puppets. Give a professional a light and he'll make magic.
This article has been brought to you in collaboration with Cluboid.