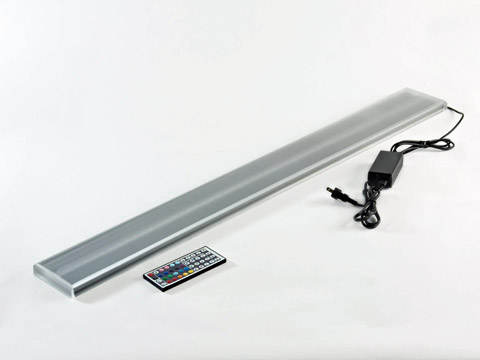 Using LED lighting on your liquor shelves is a great way to add a unique atmosphere to your bar or restaurant. However, it's not just the lights and the energy efficiency that makes Armana's selection of LED liquor shelves so great. These are shelves that are built with the highest standards of construction, ensuring that they will last you for years to come.
Perhaps the biggest benefit to our selection of LED liquor shelves is that they are made using 100% acrylic. There is no MDF (medium-density fiberboard) used anywhere on these shelves. MDF is a cheap type of wood that is slightly more dense than plywood, made of separated fibers (sometimes known as "particle board"). Using these acrylic shelves rather than traditional MDF wooden shelves painted black (or other colors) provides a much more durable product in what is typically a damp or wet environment. Products using wood or wood particle type materials are the wrong materials for this type of product. Avoid warping and disintegrating bottle shelves and display tiers by using Armana 100% acrylic liquor shelves.
To further enhance the safety of these shelves, Armana has designed them to have no sharp edges, thanks to its detailed flame polishing process. Using RGB LED bulbs rather than fluorescents also decreases the amount of heat produced by the bulbs, making the shelves much safer for use. The lighting is completely encased, meaning you won't have to worry about coming into contact with the bulbs. Each product comes with LEDs encased in Acrylic. You can change out the LEDs as easily as you do a light bulb, if needed.
Armana liquor shelves are liquid resistant as well. Considering these shelves will be in areas with a lot of liquids and a high chance of spills, this is extremely important. You will not have to worry about one small spill ruining the appearance of your shelves; simply wipe up the spill and move on.
If you have any questions about the specifications for our LED liquor shelves or need help choosing the right type of shelf for your home or business, we encourage you to contact us today. Our team is happy to work with you and answer any questions that you have.