Going out with your coworkers or friends every weekend can add up financially and often end up being emotionally exhausting. Sometimes you just want to spend a relaxing evening in with a beer or two, but that doesn't mean your night has to be boring. Designate a space in your home for a few shelves, some bar tools, and low-effort DIY decor for the ultimate relaxation station. These unique decorating tips will have you on your way to creating the perfect home bar on any budget.
Bar Lighting
Bar lighting can range from rustic to industrial to bright LEDs, so this is another area where you can customize the lighting to suit the overall feel of your home bar. Marquee-style decorative lighting is a unique way to create a focal point in the room. You can also upcycle old liquor bottles to use as DIY sconce lighting.
Whether it's homemade or store-bought, repurposed bar and alcohol equipment into functional decor can distinguish the bar from the rest of the home.
Take some tips from the bar and restaurant design pros and keep the lighting scheme in your home bar somewhat subtle. It has been shown that the lighting styles in an area where people eat, drink, and entertain has huge effects on appetite -- warmer shades like red or yellow stimulate the appetite while cooler tones like blue or grey suppress metabolism and have calming effects on people. Keep this in mind if you're using the bar as a central space for entertaining friends and family.
Bar Shelving & Storage
You may be leaning towards a compact bar cart if space in your home is tight, but why give up that valuable floor room when you can just use your walls? Instead of having your liquor tucked away out of sight on a bar cart, shelving can make it easier to see what's running low. Shelves can be a great way to use up the available vertical height. From storage solutions to even whole dining room sets, acrylic furniture and accents have been trending in the design community because it creates the illusion of more space. Apply the same concept by using durable, acrylic shelving on your walls to give your bar a modern, "floating" look.
Protip:You can use these shelves to display anything you can think of -- from nail polish to a collection of books -- but when it comes to your home bar, be sure to use acrylic shelving that is specifically made to withstand the weight of liquor bottles. You wouldn't want to come home from work one day to find your delicious (and expensive!) alcohol in a shattered mess all over the floor.
As for the alcohol, the outpour of new flavors and infusions have changed the packaging of many well-known brands. Collecting liquor bottles has always been a popular hobby, but now people are starting to hold onto the bottle for its design even long after the alcohol has been consumed. Use the shelving as an option to display your favorite unusual bottles and to keep track of your favorite spirits.
Bar Accessories & Signage
You can direct your guests towards the bar area and let them know what's on deck with a chalkboard sign. Keep track of your cocktails and beer options by making custom signage for the bar by spraying the glass of a large decorative picture frame with chalkboard paint.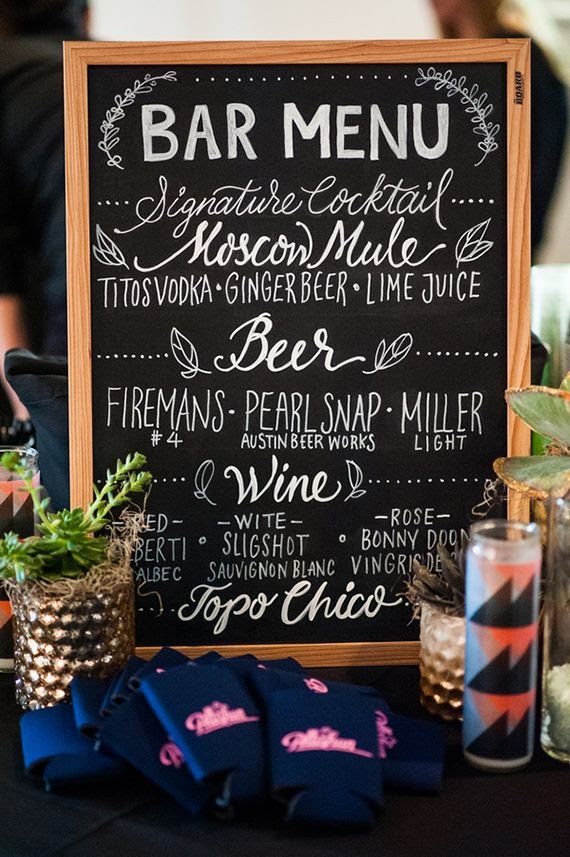 DIY Chalkboard Frame
Find a suitable picture frame to use as the the chalkboard signage for your bar or kitchen.
Take apart the glass from the picture frame and clean it thoroughly with glass cleaner or alcohol.
Spray the glass with paint that is made to work on glass surfaces and let dry for a few hours.
Apply a thin layer of chalkboard paint in one direction on the glass and let dry for a few hours.
Be sure the glass has dried completely before applying another thin coat in the direction opposite of the first layer of paint.
After the glass is painted to your liking and has dried overnight, fit it back into the frame.
Enjoy your new drink menu board!
A good home bar comes stocked with the essentials to whip up a perfect cocktail, pour out a refreshing beer, or relax with a smooth whiskey on the rocks. Bar tools give you the chance to tie the theme of your decor together and dazzle your guests. Go all sorts of wild with an easy DIY project or by finally upgrading to the low-ball glassware set you've had your eye on. After all, what's a bar without some quirky accessories? Channel your inner mixologist with these 'DIY or Buy' ideas for bar tools:
---
Depending on your goals, setting up your home bar can be accomplished in as little as just a weekend. Your friends, family, and guests will be sure to love the new addition to your entertaining space. All that's left is to practice experimenting with your signature cocktails!