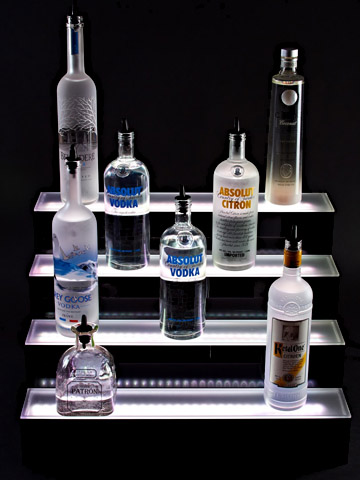 The days of black, hand-painted, old wooden bottle shelves and dark, dingy back bar areas are long gone. Today, the most successful restaurants, bars and clubs are investing in much more attractive elements, and a big part of that is lighting.
No longer will you find shoddy carpentry or strings of light bulbs cobbled together beneath a heavy, scratched piece of glass in an attempt to create some semblance of ambiance. You won't even find fluorescent displays any more, as they are hot, dangerous and extremely difficult to dispose of when the bulbs burn out. Today's biggest trend in liquor bar shelving and back bar displays is LED lighting, and at Armana, we have a wide selection of LED liquor shelves and liquor bottle tiers that can drastically improve the aesthetics in your establishment.
The LED liquor shelves that we provide are 100% acrylic. Rather than being made out of cheap materials such as MDF and spray painted, these tiered shelves have a sophisticated look and are glossy black on the front, sides and back, with frosted, scratch-resistant acrylic tops. Best of all, you can be sure that these shelves are built to last, as every single one is built to be liquid-resistant. Any spills can be easily cleaned up without you having to worry about it wrecking your lighting display and shelf.
These tiered LED liquor shelves also offer you a much greater degree of control over the lighting in your bar area. A wireless remote comes standard with every order, and allows you to easily adjust the brightness and colors of the lights. There's a setting for every mood, and your customers will appreciate the constantly changing nature of your bar lighting.
Your establishment should not have to settle for outdated lighting displays and shelving setups. Get a safer, energy-efficient and more attractive option from Armana today in the shape of our tiered LED bottle displays. Contact us today to place your order or to obtain further information. We look forward to helping you revolutionize the atmosphere of your establishment.