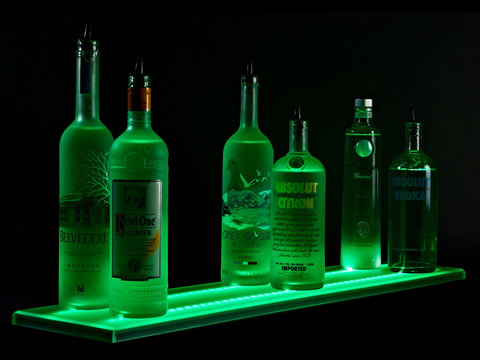 When you think about Christmas and holiday decorations, you probably instantly think of trees, stockings, strung-up lights and paper snowflakes. However, the holiday season isn't just a time to decorate your home--it's a great time to decorate your bar as well!
During the holiday season, your patrons are probably feeling the spirit of the season, so why not play on that and make the ambiance of your bar or restaurant special? Here are five different ways that you can use Armana LED lighting products to decorate your restaurant or bar, and bring the holiday cheer to your bar this holiday season:
Decorate your windows with colorful lights
Use LED color-altering strip lights to give yourself a simple way to light up your display cases and liquor shelves for the holiday season. Choose from reds or greens, or perhaps some soft, light blues to give a wintry feeling to your bar. Or create your own color and store it in the included wireless remote control.
Light up your liquor shelves
Perhaps the most attractive place to put an LED display in your bar is the liquor shelf. It's an area that draws a lot of attention from people in the bar, which means that it's your best chance to create a unique atmosphere. In the holiday season, light up the shelves and watch it reflect beautifully off the glass bottles, almost like light reflecting off ornaments on a Christmas tree. We have plenty of LED liquor shelves available that can offer you full control over these setups.
Give the top of your bar a nice shine
Our LED lights aren't just for liquor shelves! You can also install LED strips on the bottoms of bar tops, called Underbar Lighting, which creates a wonderful effect on top that reflects magnificently, especially in a darker atmosphere. For the best effect, keep the top of your bar clean and polished!
Use color-changing display lights
Add some of these extra lights around your bar and have them occasionally change to give a new, holiday-themed lighting display. They're a simple touch that can add a lot in the holiday season!
Change your business sign for the holidays
Add a special touch during the holiday season with some LED color-changing strips on your restaurant or bar sign, both indoors and outdoors. They'll add both a welcoming touch and a bit of holiday cheer.
If you have any questions about the LED lighting displays available from Armana, please feel free to contact us for more information!