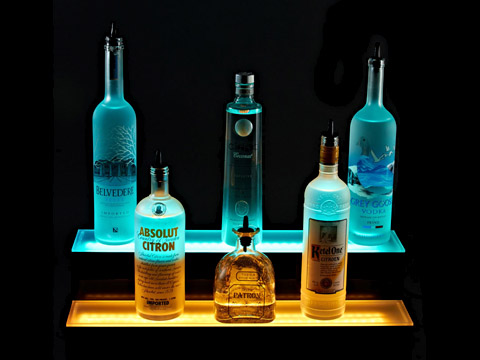 Style and visual appeal are very underrated aspects when it comes to bar displays. Yes, you should arrange your liquor by size, type and expense, but that's where your display efforts should cease. When you place liquor on a shelf in your bar, it should be so attractive in its display that its very look beckons the viewer to sit down and savor their drink of choice.
Style and decor play an important role both in attracting new customers and retaining old ones. An attractive display will gather a great deal of interest in your bar, and we have the simplest solution for you: LED liquor shelves and bottle tier risers from Armana Productions.
Armana's LED liquor shelves and bottle tiers are built with a 100% acrylic material that are liquid-resistant, meaning they are built for safety and durability. Instead of using hot and occasionally dangerous fluorescent bulbs, these shelves use LED bulbs that are rated for 50,000 plus hours of use. That incredible level of energy efficiency will save you money on energy bills and help you to do your part in protecting the environment.
Every LED liquor shelf from Armana comes with its own wireless remote control that allows you to quickly and easily adjust the lighting levels and colors. In this way you can change the ambience of your bar for any occasion, mood or season. You'll be amazed at how big of an effect that just changing the lights can have on your bar, and how many of your patrons will be impressed by this touch of elegance. Create unlimited colors and store them right in your included wireless remote control.
Liquor bottles in a proper arrangement always look great, but they look even better whenbathed in colored LED lights, reflecting the bright lights and helping to establish a cool, unique atmosphere in your establishment.
For more information about these high-quality shelves and how to get the most out of your liquor display arrangement, contact us today. Now's the time to revolutionize your bar display and give your customers an exciting, unique atmosphere that will keep them coming back for more.